BPI and HSBC 0% Installment NOW AVAILABLE! Free Delivery within the Philippines.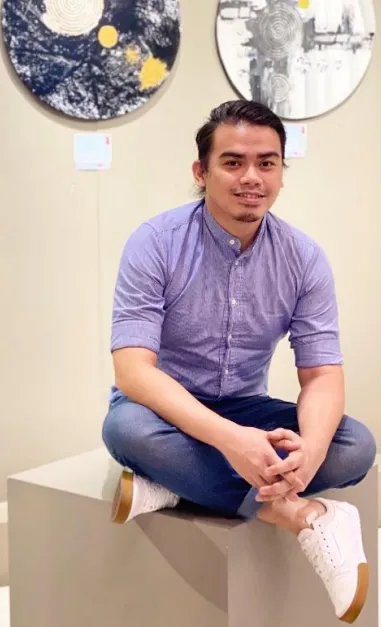 Marco Polo Cabrera
0 Artwork
---
Biography
Marco Polo "MarPolo" Cabrera is an abstract expressionist, mixed media artist, and sculptor from Nagcarlan, Laguna. He is the sixth son in the brood of seven, Pablo and Shirly Cabrera. He learned to draw at the age of 15 from his brothers. He finished a degree in broadcasting from the Laguna State Polytechnic University in Sta. Cruz, Laguna. He rediscovered his love for sketching in 2009 while in college. In 2015, he decided to take it further by starting to make abstract paintings. And to improve his love for his passion, he took a short course at Lasalle College of Arts in Singapore last 2018.

His paintings are inspired mostly by the music he listens to, his emotions, and the principle of automatism. Music triggers his visions of colors andcreativity like synesthetes, who see colors by listening to music. Having synesthesia gave him
unlimited imagination of shapes, colors, and angles that commands him to steer his brush and palette knives. And while on it, his emotions gave him fuel and make him more sensitive to every possibility. But there are times when he just sits, looks at his canvas and does whatever he likes. At the end of the session, he creates a masterpiece without thinking deeply, like the principle of automatism.
His medium for creating abstract paintings is mostly acrylic paint. Sometimes he adds different mediums such as commercial sand, paper, and textured gels giving his creations texture, depth, and character. When it comes to his sculptures, he uses cement and wood. He also put his artwork in tote bags to spread his work. MarPolo believes that his art is more than just wall décor; it can also be worn, used, and support sustainability. And fortunately, he has local celebrities and international collectors who really admire his artworks.
MarPolo Cabrera is at present an online writer and a businessman in Quezon City, but outside of that, he is a young artist whose abstract paintings and sculptures reflect a genuine love for the arts.
---