BPI and HSBC 0% Installment NOW AVAILABLE! Free Delivery within the Philippines.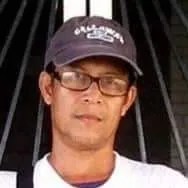 ---
Biography
Born on October 20, 1963, Ariel Celestra is an artist from Pila-Pila, Binangonan, Rizal. He is the third child of eight siblings. His chosen medium for his art pieces is oil painting.
In 2009, he earned a spot at the GSIS Annual Painting Competition with his obra entitled "Titig", which features his son.
He believes that all of his dreams will come true, and he has worked hard to reach all of his goals. He believes that anyone is capable of becoming an artist, but you can only recognize a great artist by how their work makes others feel. What he can say based on his experience is that there is no art that is "ugly".
ARTIST STATEMENT:
All of our obra is created beautifully and meaningfully because it is the product of our mind and the skill of our hand that God has given us.
---