BPI and HSBC 0% Installment NOW AVAILABLE! Free Delivery within the Philippines.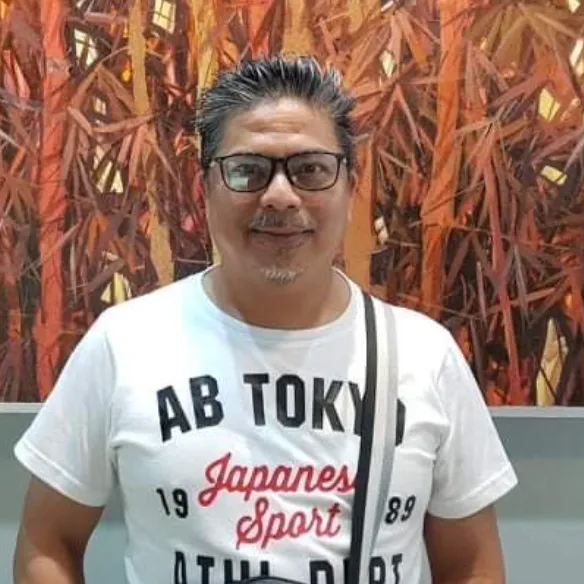 Brando Limon Bati
3 Artworks
---
Biography
Brando Limon Bati was born on November 15, 1970, in Tanza, Cavite. His family moved to Tanay, Rizal, in 1971. Studied art under Tanay artists; briefly at Slim's Fashion and Arts School, 1988. First one-man exhibition: George Sison Gallery, 1999

The artist engages the viewer at once from a distant perspective and with an intimate approach. In his dense proliferation of bamboo leaves, illusion and depth create scenic abstractions that have been lavishly rendered with a palette knife, each stipple punctiliously delineating a tableau of nature. And yet the sheer enraptured verisimilitude of bamboo, in its determined spread, becomes vitally alive and diaphanous despite the overladen textural grit of pigments. Bati's pictorial space is crammed with details that provoke spatial ambiguities, such that the multitude of leaf patterns, in the manner of the French pointillists' tumult of polychrome strokes, merge, through retinal blending, as a cascade of spring and autumnal colors.


Like cathedral scaffolding, the vertical bamboo poles bisect the surface at a rhythmic pace, jutting out from a rumble of leaves, sometimes barely visible through the layers of a darkening curtain that allows an assertive radiance of light to shine forth. What comes across is a struggle between a lyrical mood and a tensile passage through a dense, tangled path. References to light abound, as can be gleaned from the titles. And though the ostensible subject is the bamboo and its proliferating leaves, the sage in the artist clearly summons light, breaking up into prismatic splinters.
---