BPI and HSBC 0% Installment NOW AVAILABLE! Free Delivery within the Philippines.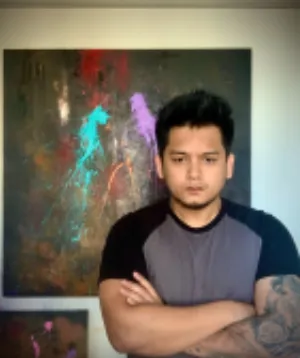 ---
Biography
In a small mining town in Camarines Norte, Bicol Region, in the southern part of Luzon, the biggest island in the Philippines, Brandon Apa was born into a family of miners.
"I worked as a miner in Bicol, looking for gold in dark caves. We had a lot of miners in our family tree, and, for a time, it also served as my source of income," Apa said.
Perhaps his sojourns in the belly of the earth led to Apa's fascination with warm browns that remind the viewer of rich earth in his abstract paintings. One may imagine a part of a mining tunnel gazed at by the young painter, shone at by strong light to spot the precious gold deposits that needed to be dug up and processed.
Apa's home region is known for having rich mineral resources: gold, copper, marble, silver, lead, manganese, perlite, limestone, rock phosphate, and even guano. With Bicol being highly volcanic in origin and part of the Pacific Ring of Fire, it has two active volcanoes among seven, along with hot springs and crater lakes, from Mount Labo in Camarines Norte to the Gate Mountains in Matnog, Sorsogon. Though Mayon stands proudest with its perfect conical shape, it is seen only on the province's visible landscape. Below ground, there are cave networks unknown to visitors, where aside from agriculture, geothermal energy, and tourism, some locals are enrooted in tunneling, quarrying, and gold panning.
Unearthing gold has become such an integral part of life that the locals created the Pabirik Festival to commemorate the culture, traditions, history, and customs of gold towns in Camarines Norte. Pabirik means pan, the primary vessel used by natives in gold panning. Started by pre-colonial Chinese, then Spaniards and Americans, the industry is now managed almost completely by locals.
It is this tradition that permeates Apa's series of abstract paintings that show mixtures of tonalities of browns, oranges, and reds, tinged with soot black, as if leading us on a journey towards the center of the earth while carrying torches. The warmth of terracotta, burnt orange, and sienna share Apa's color spectrum with deep shades of burgundy and are teased by the glowing reds of lava, which are then disturbed by the jewel-toned splashes of amethyst, aquamarine, and pink quartz. Textures of wet soil, grit, and burrowed rock keep the surface interesting, with occasional hand prints that may be likened to Paleolithic cave paintings found in Lascaux.
With his hometown's rich cultural heritage and mining traditions, Brandon Apa is painting expressions from the earth and of the earth, grounded in nature, and showing wonders rarely seen.
---