BPI and HSBC 0% Installment NOW AVAILABLE! Free Delivery within the Philippines.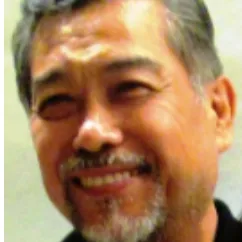 ---
Biography
Edgar Valentino B. Arcilla is an avant-garde pioneering artist who worked as a folksinger with the Hyatt Regency Hotels in Hong Kong, Singapore, and Sydney, Australia, for fourteen years in the early 70s after his graduation from the University of the East School of Music and Arts, the original arts institution of its current College of Fine Arts Architecture and Design (CFAD). Ed Arcilla majored in advertising arts. In Hong Kong, he joined a Japanese import/export cargo consolidation company and eventually partnered with an American and local Hong Kong trading outfit that allowed him to travel to many countries in Asia and the U.S. He opted to try getting into some new ventures to pursue that would keep him busy with his creative mind and hands. He spent three years building video game machines and operating fun machine parlors in Hong Kong, and his business in Taipei and Tokyo led him to a new discovery that he brought back home with him and pioneered the use of fiber optic light art in the Philippines.
Ever since then, he has prominently been in the visual arts, if this statement is based on almost thirty (30) years of designing and fabricating advertising light signage systems as seen all over commercial and institutional establishments. He is known for his very own TREKLITE brand of fiber optic lighting and was eventually called Mr. TREKLITE in the advertising industry. He was a prominent advertising practitioner and actively participated in the Philippine Advertising Congresses as its Technical Committee Chairman while being the President and Chairman of the Advertising Suppliers Association of the Philippines (ASAP), a member association of the Advertising Board of the Philippines (ADBOARD).
Double exposure, in photography's jargon, in the early 90s, Ed has also left his mark as an ace photographer, winning four times in four consecutive years and winning the top overall Grand Prize of the Canon Asia Pacific Photo Contest besting eleven (11) countries and over 12,000 local and international entries. His photograph, entitled "The Chairman," has impressed both professional local and foreign photographers, aside from foreign judges. He was then finally called "Chairman" by his advertising friends and colleagues. He is a member and former president of the prestigious Zone V Camera Club.
Ed was awarded the University of the East's top 60 alumni in 2006, representing the College of Fine Arts, and in 2008, the Most Outstanding Alumni in the Field of Fine Arts, given by the University of the East Alumni Association, Inc. On the 75th Foundation Day of 2021, Ed was among those who received from the university the 60 UE GEM Awards.
Currently finishing his graduate studies in visual arts at the University of the Philippines, College of Fine Arts, this has led him to discover and realize that he is and has always been a light artist (using fiber optics as his medium since the early 80's). This led to his transformation from a light artist/businessman in advertising into a visual and light artist, true to form, and his innovation in his craft and art.
Ed is an active member and Vice President, External, of the Bikol Express-ion Artists Association, Inc. Likewise, he is also a member and committee head of the Asia Pacific Art Painters United Association, Inc. He is also active as a director of the Makati Tourism Foundation, Inc., and is currently the vice president of the University of the East Alumni Association, Inc., and president of the UE Fine Arts Alumni Association.
---