BPI and HSBC 0% Installment NOW AVAILABLE! Free Delivery within the Philippines.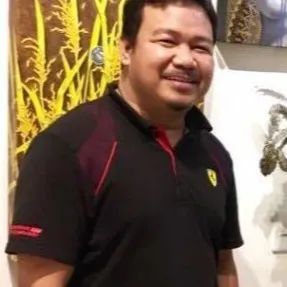 Emmanuel Bueza
Philippines | 1 Artwork
---
Biography
Emmanuel Bueza was born and raised in Lucban, Quezon, a quaint little town known for its Pahiyas Festival. At an early age, he had already shown a keen interest in the arts. He is experienced in a variety of different mediums in his works, but what Bueza is greatly fascinated with is creating pen and ink works.

Historical churches are one of his favorite subjects to create where he can show his passion and accuracy of lines, forms, and values on paper. Other than his fascination with old structures, he also likes to paint landscapes, human figures, flowers, and birds.

It doesn't matter what subject he chooses to create; expressive elements are always manifested in his works. More than just painting with emotion, Bueza is also meticulous and precise in creating shadows and highlights which makes his art come alive.

These days, his artistic expressions have branched out to stainless sculptures giving life to nature with dynamics of flora and fauna. One of the most active artists in Lucban, Bueza has held several solo exhibitions throughout the Philippines and launched a few exhibits abroad.


---