BPI and HSBC 0% Installment NOW AVAILABLE! Free Delivery within the Philippines.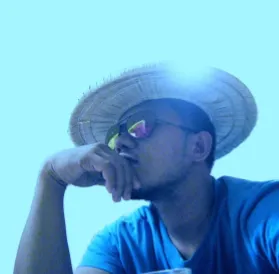 Eugene "Huge" Cañadilla
4 Artworks
---
Biography
Eugene "HUGE" Cañadilla, the Mindanao-based Filipino painter, sculptor, art teacher, environmentalist, and computer studies professional, is known by his moniker "HUGE".
His interest in Art started when he was in grade school, as he regularly won the school's art contests. After winning several art contests and awards, Huge pursued the business of art as a muralist and commission artist.
In 2009, Huge became one of the two Philippine Representatives during the 2009 Diplomatic Cultural Exchange held in Jakarta and Bali, in which Indonesia participated with 60 Countries around the world.
Since 2021, he has focused on his own artistic agenda, which he calls the period "The Geist of Blue-green". The reflection of his deep advocacy for mental health, peace, and environmental protection is possibly the product of his Japanese Martial Arts practices. Huge is also a Judoka and Aikido Practitioner.
Each of his works has its own story, mostly delivering peace, harmony, and philosophy using imagery. He believes that Art is a very powerful creative language. The highest goal of his Art is to radiate spirituality, morality, and humanity to the viewer; for him, it's how we improve the world using the creative approaches of art. Huge categorizes himself as one of the pioneers of the neo-romantic movement of the 21st century.
His social media accounts are: YouTube: "Huge Art Gallery," Facebook Page: "Huge Art Gallery," and Instagram: "huge_art_gallery".
---