BPI and HSBC 0% Installment NOW AVAILABLE! Free Delivery within the Philippines.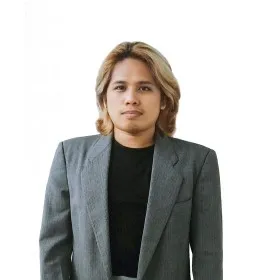 Jaime Tacuyan Jr.
6 Artworks
---
Biography
"Arts convey stories, evoke emotions, and transcend the materials realm."
Jaime Tacuyan Jr., also known as DUAG.art, is an Ilonggo artist and architect, born in 1994 in South Cotabato, Philippines. Jaime's fascination lies in the world of arts and storytelling, particularly focusing on abstract and abstract expressionism art as his instrument for expressing his emotions and narratives, while also encouraging visibility for the Bisaya and Filipino languages. Having been born in Mindanao, studied in the Visayas, and is currently working in Luzon, Jaime's travels have gifted him with numerous stories, experiences, and emotions that he seeks to share through his art.
He finds inspiration in emotions and experiences and primarily works with acrylic and mixed media, especially upcycled materials. His oeuvres feature fluid and flexible patterns, symbolizing the strength in embracing fluidity, a concept drawn from the artist's own life experiences. Being a constant subject of discussion due to his soft and nurturing expression, which society often associates with femininity, he challenges the notion that males should conform to societal stereotypes of masculinity. Instead, he believes that flexibility and nurturing are supposed to be strengths.
Via upcycling, the artist sees himself as an architect, who is supervising the construction of these new pieces through his stories and emotions. He hopes to create art that transcends the tangible and leaves a profound impact on the viewer.
After making his return as an artist in 2022, Jaime's work has been featured in several prestigious exhibitions, including Art Show Philippines, Sining Galing, The Grey Space (IBP Charity Auction), Crimson Alabang (South Arts Festival), and GSIS Museo ng Sining.
---