BPI and HSBC 0% Installment NOW AVAILABLE! Free Delivery within the Philippines.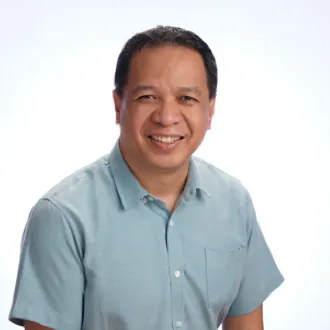 Jasper De Leon
Philippines | 4 Artworks
---
Biography
Pursuing a love of his craft, Jasper L. de Leon majored in Studio Arts at the University of the Philippines Diliman earning his degree in Fine Arts in 1993. Part of his famed accomplishment is winning the Shell National Art competition back in 1991 with his work "Still Life". Two years before, he was bestowed the prestigious Joya award. He heeded the call of the academe and joined the Ateneo de Manila High School faculty as an art instructor for Visuals Arts, Media and Art Appreciation in 1994 shortly after a stint as a graphic artist in an advertising firm. For more than 25 years, he has been teaching high school students basic art education and appreciation. Even with a great number of years invested in teaching, Jasper pursued his true passion by participating in various solo and group exhibits, mural paintings, graphic design, commissioned works and teaching engagements while leading the Arts Department of Ateneo Senior High School and inspiring students to harness their gifts. He used to be a curriculum writer and Secondary level textbook evaluator of the Department of Education. Currently, he is teaching Philippine Contemporary Arts, Studio Art (Basic Drawing, Painting and Sculpture), and the Arts Coordinator at the Ateneo de Manila Senior High School. Jasper takes inspiration from his three young children for his unique artworks composed mostly of sculpture, mixed media, and oil characterized by intricate strokes and elaborate design.
---
1991 - "STILL LIFE" - U.P. Faculty Center - "SHELL PAINTING CONTEST EXHIBIT" QUAD 1 Ayala Center
- 'HABITAT EXHIBIT' - Manila Peninsula, Makati
1992 - "SHELL WINNERS EXHIBIT" EDSA Shangrila Plaza
- "MINI THESIS EXHIBIT" - U.P. Faculty Center
1993 - "STUDIO WORKS" - U.P. Faculty Center
- "STUDIO WORKS" - U.P. Baguio Convention Center
1994 - "12 WORKS" - West Gallery
1995 - "ART EXHIBIT" - COD Gallery
- "SOULS" – Installation Art - AteneoHighSchool Grounds
1997 - "Annual Artsfest" - Ateneo Art Pavilion
- 'WATAWAT' – Makati Art Gallery
1998 - 'EXHIBITION' - Fashion Café
- 'BAHAGHARI' - Penguin Café
2000 - "BATHALA NA" - SM Art Center/ Mega Mall
2001 - "UNANG HAKBANG" - Padis Point / Mindanao Ave.
2001 - "PANGALAWANG HAKBANG" –
Mega World – World Center Bldg.
2001 - "STRUGGLES" – SOLO EXHIBIT
West Gallery, MEGA MALL
2008 - "HEART MATTERS" - Green hills, San Juan.
- "ONE BY ONE" - Monumento Gallery, Cubao Shoe Expo
2009 - "SELYO" - Green hills Shopping Mall, San Juan.
- "ESKWALADO" - Gallery Anna , Megamall
- "ATENEO PLACES, PEOPLE AND SCENES"
True Brew Café Gallery
- "9 x 12" - Sining sa Silong Gallery, Pasig
- "REUNION" - Sining Kamalig, Gateway, Cubao,
- "Art for Youth's: Sake:Eksibit Para Sa Kabataan ng Payatas" - Lobby House of Representatives Q.C.
- "FRUITINI LAND" - floor art / Fort, Global City
2019 - "UNBOUND" - UP College of Fine Arts, Main Gallery 1
---