BPI and HSBC 0% Installment NOW AVAILABLE! Free Delivery within the Philippines.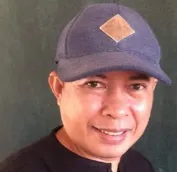 ---
Biography
Leo Gali is a self-taught artist, and some of his notable works are focused on rural and urban concepts of design and details. Some of his paintings' themes are inspired by the marginalized sector. His signature works are rich in color and texture. He loves to explore different mediums as a challenge to his artistic journey. His works are also consigned to several art galleries across the country.
He is also the illustrator of several big books for Indigenous people in his locality. A cartoonist for a local tabloid and a member of the Himbon Contemporary Art Group based in Iloilo City. He has joined several art competitions, including the GSIS National Art Contest. For him, art is a continuous process.
He is one of the founders of Figura Paniteño, a group of young artists from Panitan, Capiz, with the goal of helping young children develop their skills through several trainings and workshops.
---